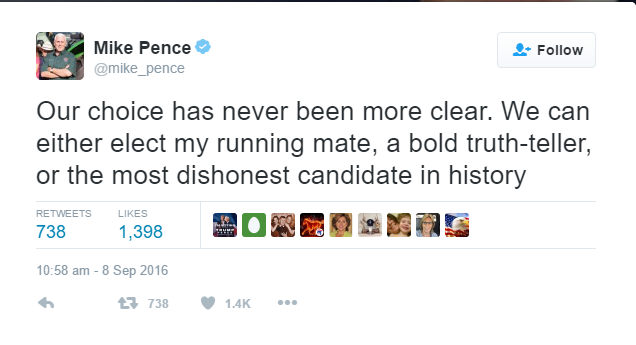 So here we have Mike Pence making an unusual choice - clearly endorsing someone other than Trump. And why mention only three candidates? If you're going to admit that wannabes, no-hopers, and also-rans exist, why not mention all of them? Or at least make it clear which one you're endorsing?

He mentions his running mate (that's Trump), he mentions a "bold truth-teller" (from anyone else that would mean Clinton, but that seems an unlikely choice for Pence's endorsement), and he mentions the most dishonest candidate in history (presumably he means Clinton and is just repeating the standard lie).

So who's the "Bold Truth-Teller" he wants everyone to vote for, who he's supporting *over* his own running mate?